We've seen so many shops that don't have mileage on their invoices and inspections and have to wonder how you can have a conversation with your customer and recommend items without even knowing the mileage on their car. Forget legalities of getting it on the paperwork, it should be the first thing you look at so you're not guessing on potential maintenance work. I can't tell you how many inspections I see where items are recommended by "age/mileage" and there's no mileage on the car.
When a Tech starts an inspection, the mileage is pulled from the repair order and in the quicklist you can see if it has the mileage or not. If it does not, the Tech can update that as they create the inspection, or while they're inspecting the vehicle. With default settings, a Tech does not have to enter mileage. But, you can change that by editing the templates that you want to require mileage on. Under Settings/Template Setup, choose to edit the template you want to change and select the Require odometer reading option: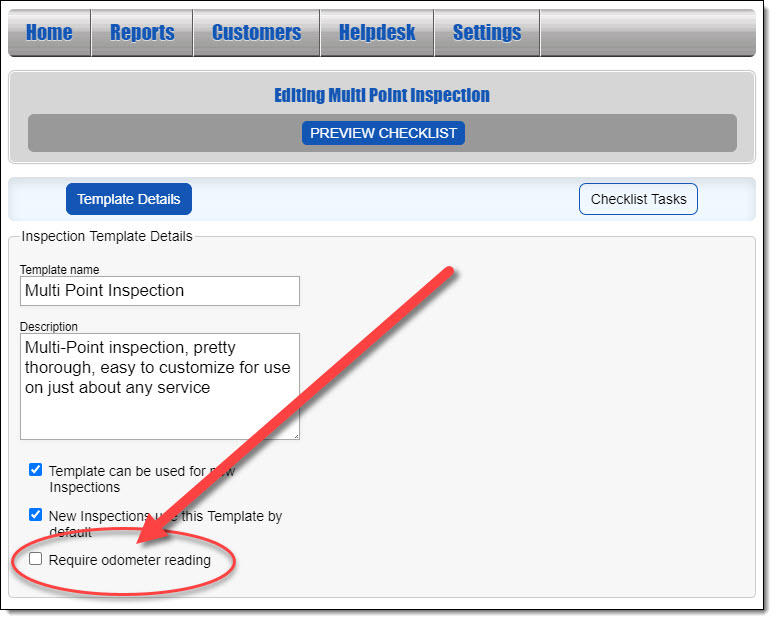 When the Tech is performing the inspection, they will be required to either enter an odometer reading or give a reason that it cannot be entered as shown here:

We hope this upgrade will help you get better inspections delivered to your customers and insure transparency in your recommendations. As always, feel free to call or message us with any questions!