When we text our customers an inspection, we include a photo of the employee and a quick write up on their history, specialties, etc. You can add this function to your Tech's and Advisors and have it included in every inspection. For a sample of what it looks like, see this one that we texted a customer.
It's pretty easy to setup. You just need to get into the employee editing section. Select Settings/Shop Users and then click the "Edit" button to the right of your employee: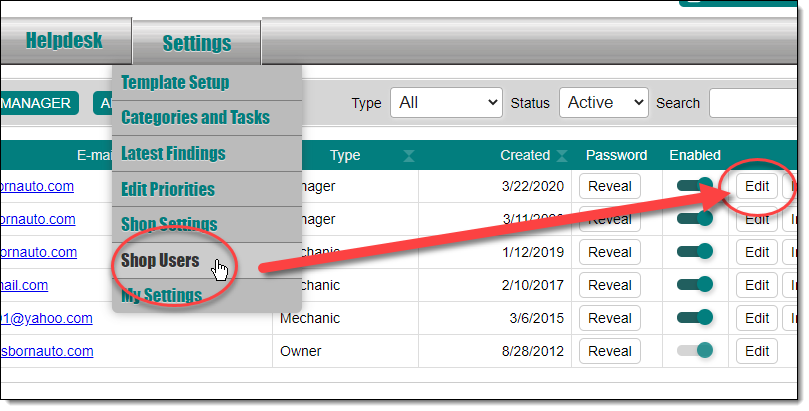 Once you've opened the employees info, select the "Biography" tab: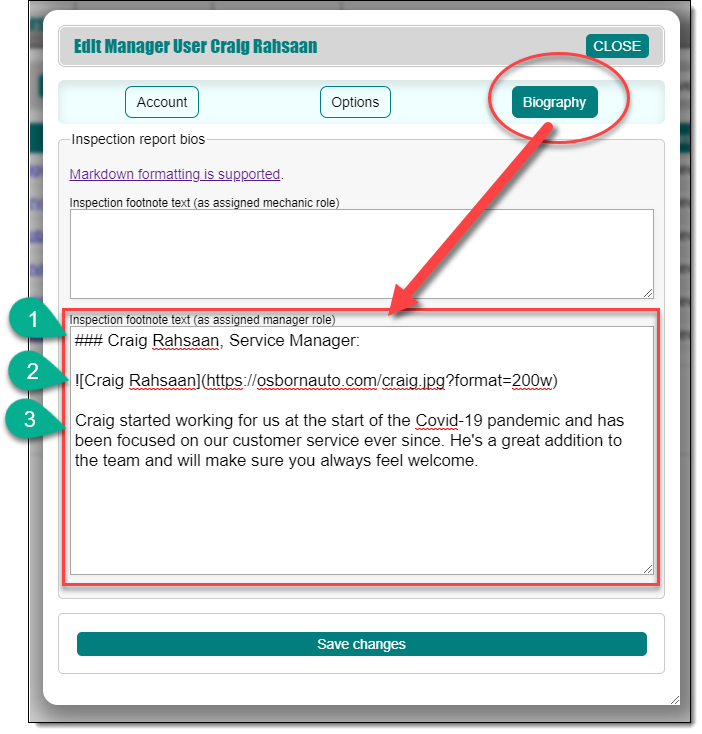 If you want their information to show as a Manager, you will put the info in the Manager section. Same goes for a Tech. If you have someone that does both, you can duplicate the info in both text boxes.
The language used in the box is pretty simple. If you feel like experimenting a little, you can click the Markdown formatting is supported link to see all of the options.
The sample I'm showing is pretty simple:
### Craig Rahsaan, Service Manager:
![Craig Rahsaan](https://osbornauto.com/craig.jpg)
Craig started working for us at the start of the Covid-19 pandemic and has been focused on our customer service ever since. He's a great addition to the team and will make sure you always feel welcome.
Line 1 starts with the "###" which will make this line in BOLD TYPE
Line 2 starts with "!" which tells it that we're adding an image here. The words between the "[ ]" brackets are the words that show as a placeholder if the image does not load. Then a link to the image. You can add images to a users asset list and copy the url from there. For best results, an image of around 200 pixels wide works best.
Line 3 is his Biography. Keep it simple, the customer doesn't need (nor probably care) what kind of parrot he has or what his favorite color is...
The inspection will now show something like this every time he is selected as the Manager on an inspection: