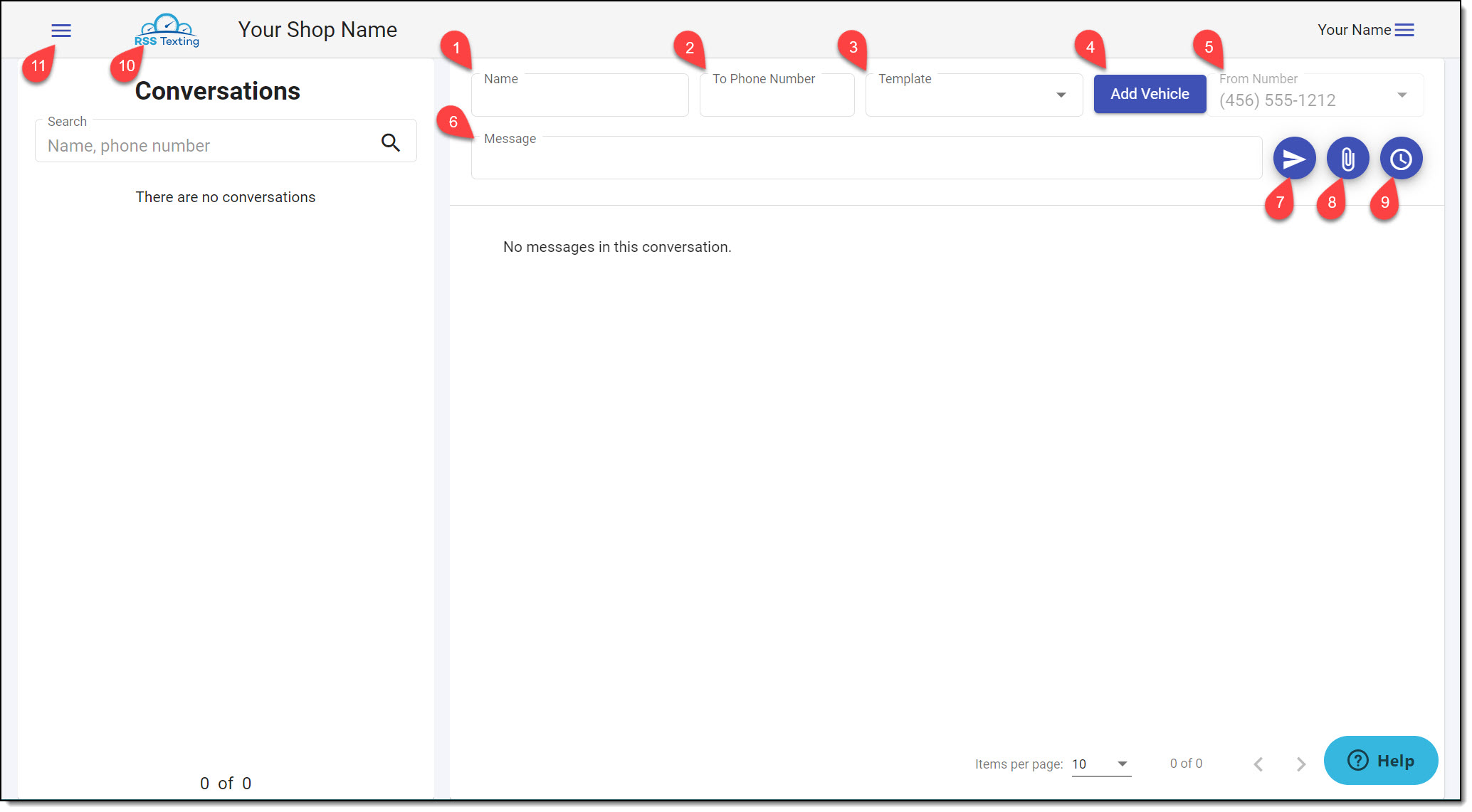 When you first log in to your new account, this is what the screen will look like. The browser you use should ask for permission for pop-ups or notifications. You'll want to allow the notifications on each machine you use so you know when someone sends you a reply or new message. Your name should appear in the upper right corner, if not, click the name and logout and back in as yourself. The account admin will be able to add new users as needed from the settings menu.
There are no contacts or conversations here yet, we suggest you send yourself a message, reply to it and check out the look and feel.
First, you need to put a name in #1 to send a message to. Be sure to always add a first and last name, nothing worse than having a system with 25 Bob's in it. Add the number you want to send to, area code included, drop down a template and hit send. IF you are using our DVI system and have integrated your shop management system, there's a link to open the texting program by clicking your customers phone number in the Quick List. This will auto-fill the name, number, and vehicle info for you.
You've sent your first text! Here's what all the options do:
Name: This is where you type in the name you want to send a message to. When you send a message, that person is added to your contact list. Once you have contacts in the system , it will search through them as you type.
Number: Enter the area code and number you want to send to.
Template: (optional) This will give you a list of your templates. We have added some common ones to your account, feel free to edit them from the menu in the upper left. You'll be getting an email to explain how shortly.
Add Vehicle: If you'd like to add vehicle info to a customer, you can do it here. You can set your templates to pull in year, make or model. We find model to be helpful. If the customer already has vehicles attached to their file, the button will change to allow you to select a vehicle.
From Number: This is the number your shop uses to send and receive text messages. If you have multiple numbers, you can select them here. Otherwise, it's informational only.
Message: If you choose a template, it will auto populate this field for you to check or edit before you send the message. You can also choose to type in a custom message without using a template, or change the message before you send it.
Send: This will send your message now, or send it to the scheduled message section if you chose a later date/time
Attach: If you'd like to attach a file (image, pdf, etc.), this will give you a chance to upload it from your device before sending the message. This is great for sending a customer a copy of their estimate.
Schedule: If you want to send the message at a later date/time, this is where you can decide when to send it. If this icon has a notification bubble above it with a number in it, that will indicate how many scheduled messages are in the que. You can click the bubble to open the que and edit as needed.
Home: Clicking the RSS Texting logo will take you back to the home screen or refresh it
Menu Options: This gets you to your contacts, templates, settings, etc. We'll go through those in the next few emails
---
Once you have sent and received a few messages, your screen will look a little different. Notice the contacts in the left panel and the conversations on the right.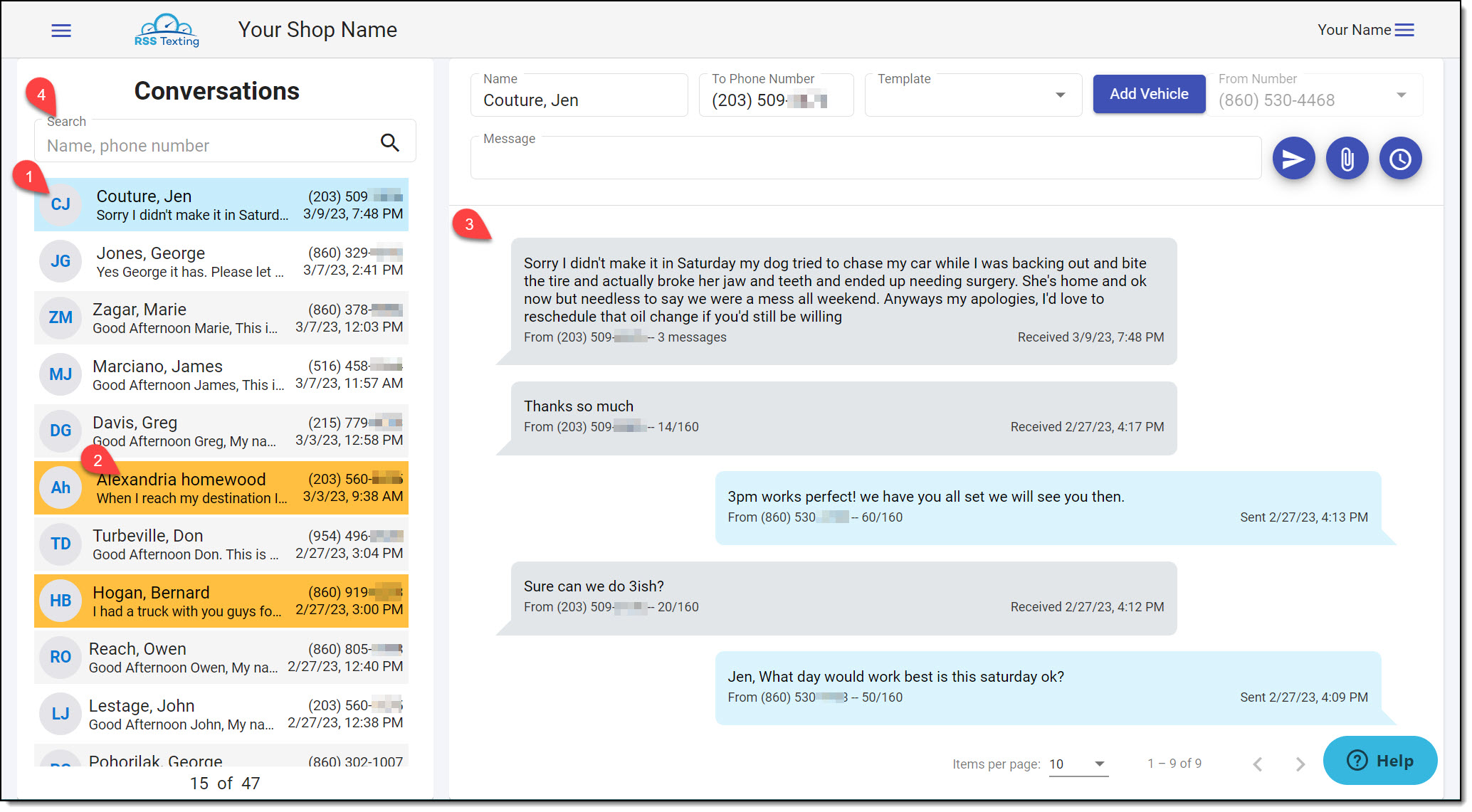 In the conversation panel on the left, the newest messages will appear at the top. If you click on a contact on the left, it will load the message thread on the right. It will also put that customers name and number in the top section, ready to send another message. It will also mark that message as read. Any row you click on will load that customers conversation and set you up to send another quick message to.
This

 

yellow coloring indicates an unread message. To clear the yellow, simply click on that row and view the message. That will clear the "Unread" status and change the color to normal.
This is the message panel, showing both incoming and outgoing messages. Each message is timestamped and shows the number it was sent to and from. It also shows you the number of digits per message. Each message can be up to 160 characters in length. Anything over that is considered multiple messages. Some customers will receive multiple texts and some will receive it in one line message, depends on their carrier.
The Search box allows you to

 

quickly search

 

for any existing messages by name or number. Enter a partial name or number to search. Once you find what you're looking for, click it and it will load that person/conversation for you.