Setting up tablets and cell phones: (no app needed)
In the past, we used an app that worked on devices that was used only for adding photos to inspections. The app was discontinued in January of 2022, about a 18 months after we updated our web version of the checklist to add photos directly from the checklist. Adding photos/video to the checklist means that they are positioned in the report directly with each task and no longer need the user to add explanation text to the images.

What tablets do I need? We hear this every day. Shops think they need expensive iPads to run the program. Don't waste your money! We use a refurbished Samsung TAB-A with an 8" screen. They average $150 on Amazon and you can have them tomorrow. Get a simple case for them so they don't turn into a wheel chock when they get dropped. In fact, get an extra because you'll find that not having one is costing you more in sales than having a spare on the shelf!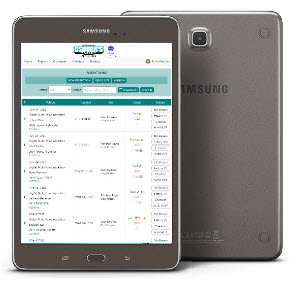 Once you get your tablets turned on and ready to work, we recommend adding a shortcut to the home screen after you get logged in to our system. This will make it function like any other app, but with all the functionality of the web. To add a shortcut to the home screen, open a browser on your device and go to repairshopsolutions.com/login and enter the credentials for the user that the device will be assigned to. Once logged in, follow these instructions:

iPad or iPhone:
After going to the website, tap the Share menu button.
In the menu, scroll down and select Add to Home Screen.
If you want, edit the title of the site as it will appear on your screen. When everything is to your satisfaction, tap Add.
The icon is now on the home screen, ready to use.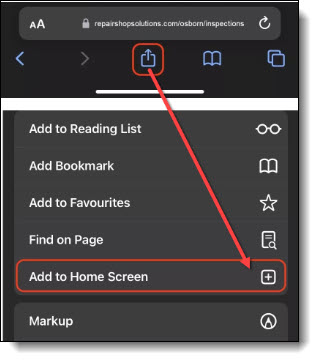 Android: (or using Chrome on an iPad)
To add a website to an Android home screen, open Google Chrome and go to the website. Then drop down the menu by tapping the three-dot icon at the top right-hand corner of the screen. Select Add to Home screen.
Next, you have the opportunity to edit the title of the icon. Once the title looks fine, tap Add to transfer it to the home screen.
If you now go back to your screen, you will see the icon. You will also see the Chrome icon attached, which means that you cannot switch the icon to another browser.